"I love older things that people have used and cherished. They have personality, character and soul" – Anna Hillegass
Relied on as a source of recurring fashion for over 100 years, the humble Aussie opportunity shop – or op shop, as it's lovingly referred to – has been a well-known institution since its early inception.
Founded by the Salvation Army in 1880, 'recycling depots' were initially set up to provide work, food and shelter for men leaving prison and were branded 'Prison Gate Brigade Homes'.
Collecting, sorting and bailing waste paper was one of the first social initiatives the Salvo's spearheaded. As time progressed 'jumble sales' were added to the organisation's mix, enabling the less fortunate to clothe themselves with discarded garments from the upper classes. As time progressed, this evolved to include household items.1
The epitome of social enterprise, opportunity shops "trade to intentionally track social problems and improve communities"2, working to provide clothing, furniture and household goods to those who can't afford it while raising greatly needed community funds.
These days, many of these businesses are multi-million dollar machines. While they have often started out small with the best intentions to help people in need or make the world a better place – they have wound up turning a significant profit through embracing social enterprise.
In Australia, there over 54,000 registered charities currently in operation3, ranging from charities, church groups right through to local community groups. While not all of these are large enough to operate op-shops, there are significantly large groups such as Mission Australia, St.Vincent de Paul, Epilepsy Australia, Vision Australia, Australian Red Cross and the RSPCA that operate within the social enterprise realm.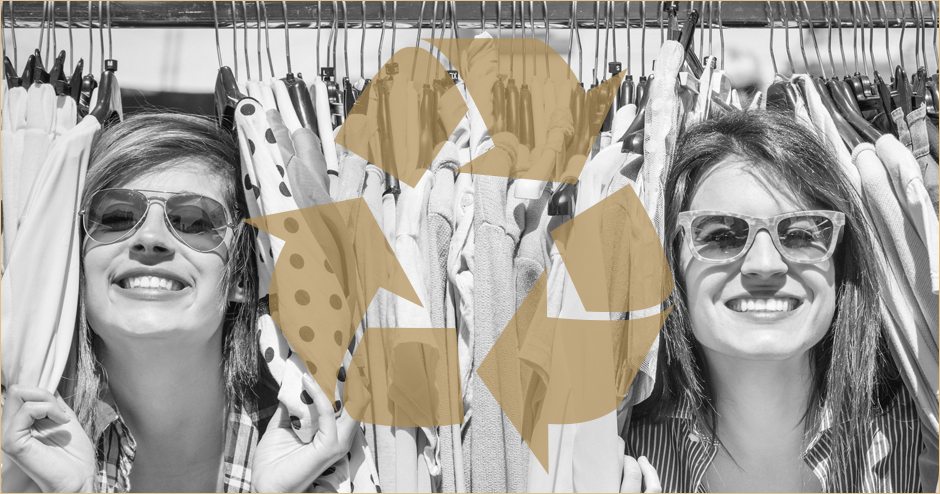 These days fashion within a 'consumer driven society' churns quickly and with the advent of eCommerce, when it comes to what's hot and what's not the turnaround is much shorter than ever before. The fall out of a high turnover of fashion means that people with the means to purchase the latest trends often will do so, leaving unwanted items in charity bins around the country.
So what does this mean for the less fortunate people in our community? It means that people can furnish their homes or clothe their families for pocket change, providing the basic creature comforts that every Australian should be afforded at the smallest of price tags, all while supporting a community organisation through the positive power of social enterprise.
Op shops have thrived with the rise of many sub-cultures within Australian society such as hipsters, punk and hippies, who are often considered 'reactive sub-cultures' pushing against society trends, fashions or norms. These sub-cultures embrace the frugal mecca op shops present. With their seemingly endless source of garments, sub-cultures are offered the luxury of finding a style they assimilate with the bonus of being affordable.
There are plenty of examples where fashion labels have been created based on people's obsession with bygone fashions. Retro wonderland Nine Lives Bazaar on the Gold Coast was created thanks to such a trend. The business owners created the startup, which celebrates the 1970's 'flower child' fashion style, after their local op shop couldn't keep up with the demand for stock, so the owners started manufacturing their own products and the business is now a retail success story.4
One thing that the humble op shop couldn't anticipate is the rise and rise of eCommerce platforms such as eBay, Facebook Marketplace, Gumtree and clothing exchange sites such as ClothingExchange and www.swop.net.au.
In a similar way that traditional 'bricks and mortar' businesses were impacted by the rise of ecommerce, so to has the op shop. With the digital revolution powering ahead at full speed, people realised they could now make a buck from their unwanted clothes and household items, essentially removing the most important element – the giving – away from the equation.
Ecommerce aside, the future of social enterprise is not only secure but is expected to thrive in the years to come. The increasingly disposable nature of society and the desire for people to be 'on trend' will keep op shop shelves stocked for many years to come.
While platforms such as eBay and Gumtree might impact a small percentage of the op shop target market, many individuals simply can't face the rigmarole of uploading, posting and managing the online buying and selling process, with the alternative being donating to op shops and experiencing the satisfaction of social enterprise in action.
As the disparity within Australian society increases due to the social gap widening, cutbacks in 'blue collar industries', automation and rising housing prices, the perfect storm is brewing for a social welfare explosion, leading to an increase in demand for op shops and social enterprise.
Australia's diverse culture, keen eye for a deal and need to be 'individual' works in favour this iconic community institution as shoppers continue to flock to opportunity shops across the country in search of a bargain. The humble Aussie op shop is a thriving social enterprise, today as it was over one hundred years ago.
From flexible and self-directed online study, to real-world business projects and dynamic industry events, our Bachelor and MBA have been designed to meet the needs of the modern learner.



1 https://salvos.org.au/about-us/our-story/our-history/history-of-salvation-army-op-shops/
2 http://www.socialtraders.com.au/about-social-enterprise/what-is-a-social-enterprise/social-enterprise-definition/
3 http://www.huffingtonpost.com.au/susan-pascoe/are-there-too-many-charities-in-australia_b_9247624.html
4. http://www.goldcoastbulletin.com.au/lifestyle/gold-coast-fashion-label-nine-lives-bazaar-started-as-an-op-shop-addiction/news- story/4e99e9307946847aea47a107dea3cf78