With our partners at the University of Canberra, Ducere's Bachelor programs provide a dynamic mix of business fundamentals and practical enterprise skills, to prepare our graduates for the demands of the 21st Century workplace. Today, we're taking a closer look at enterprise skills, why they matter, and how they can help you adapt to new careers and new challenges.
Ducere's Bachelor programs are designed to create adaptable, employable and enterprising graduates – whether starting your own business or making your mark in the corporate world, we think that you can benefit immensely from an enterprise-focused undergraduate experience.
But what are enterprise skills, precisely? Why are Australian employers demanding these skills from graduates? And how can you equip yourself with these skills?
The term 'enterprise' is closely tied to the work of an entrepreneur – it can refer to a specific business venture, for example, or to the broader concepts and contexts that entrepreneurs use.
In a traditional sense, 'enterprise skills' are skills relevant to the entrepreneurial world. These skills include: the ability to create and implement a business model; to raise capital and manage budgets; to identify opportunities and manage risk; to navigate complexity, especially when it comes to digital technologies; and, most importantly, to devise innovative solutions to complex business problems.
If you are looking to start your own business or social venture, the enterprise skill set is crucial – it represents the difference between having a big idea and making it a reality. This is why Ducere offers practical and venture-focused degrees such as the Bachelor of Applied Entrepreneurship and Bachelor of Applied Entrepreneurship (Social Entrepreneurship). We figure that one of the best ways to develop enterprise skills is to get you started on your own venture as part of your degree.
Then again, if you are just starting out in your career, or simply looking to work your way to a promotion, building a business might be the may not be your interest. Perhaps you want to get your foot in the door at a major company, gain experience in a not-for-profit, or make yourself more appealing to a potential employer. Can enterprise skills help you achieve these goals?
Indeed they can. In fact, Australian employers are making it clear that the creative and critical skills of entrepreneurs are a must-have for the graduates of the 21st Century.
Understanding the Demand for Enterprise Skills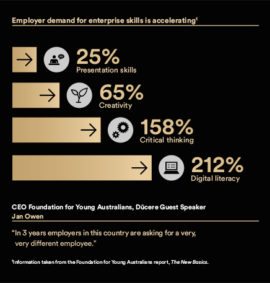 The Foundation for Young Australians reviewed over 4.2 million job advertisements from 2012-2015, to determine what employers were asking for in their graduate and early-career hires. Their 'New Basics' report found an overwhelming demand for ent
erprise skills – particularly transferable skills such as digital literacy (where demand went up 212% over three years), critical thinking (up 158%) and creativity (up 65%).
The report also found that jobs requiring digital literacy paid an average of $8,648 more per year than jobs which didn't; for 'problem solving and critical thinking', the average rate jumps by $7,745.
If you're thinking of working your way to business success, these statistics are worth keeping in mind. Employers are clear on what they need from graduates – a holistic enterprise skillset and the capability to adapt to new challenges in a fast-paced global economy. Employers have made it clear that they will pay top dollar for this expertise.
'Intrapreneurship': Innovation in the Workplace
As the FYA's analysis makes clear, Australian businesses are becoming increasingly reliant on enterprise skills in virtually every aspect of their operations. In order to meet the challenges of the 21st Century, these businesses are looking for employees that can bring new perspectives, new techniques and new solutions. And by harnessing concepts and techniques from the entrepreneurial world, these businesses are engaging in a process called intrapreneurship.
According to Prof. Robin Batterham AO (former Chief Scientist of Australia and Ducere Global Leader) innovation inside of a large organisation can take quite a long time, but is primarily driven by individuals with enterprise skills:
"You've actually got to be entrepreneurial in the sense of convincing them that there is a case; having some passion that you want to see change; being able to convince people to allow you the resources to make this happen, and then delivering it, of course. And this is really very similar to entrepreneurship, per se."
(Ducere Global Leaders Faculty)
Ducere's partners at KPMG have also made a strong case for workplace innovation, and the capacity of 'intrapreneurs' to facilitate change within the business world. According to Mirelle Aziz (Innovation Manager, KPMG Australia) and Tom Herbert (Director, KPMG Innovation Lab):
"…entrepreneurs in the startup community are inspiring a new wave of intrapreneurs; someone within a company who takes risks, is passionate about solving a problem and acts as a driver of innovation. They are motivated by their personal passion for making a positive change for their organisation, customers, employees or community. They also have a vision and the drive to see their idea come to life."
(KPMG Newswire)
Here we can see how skills and techniques from the entrepreneurial world also represent values, such as leadership, resilience, mindfulness and a passion for change. When these values are supported by a practical and industry-relevant skillset, the possibilities are truly limitless!
Regardless of your department or specialisation, enterprise skills will allow you to become a successful and dynamic workplace innovator. This is why Ducere created a Bachelor of Applied Business (Management) that connects the fundamentals of business leadership with the skills and techniques of the startup world. Likewise, our Bachelor of Applied Business (Marketing) teaches the prahttps://www.ducere.edu.au/courses/bachelor-degrees/bachelor-of-applied-business-management/ctical, digital and critical literacy skills that employers need, alongside core skills in design, campaign management and global trend analysis.
Discover Practical Enterprise Skills with Ducere
So the verdict is in: whether you want to launch your own business to succeed in an innovation-focused jobs market, you'll require a comprehensive set of enterprise skills. Fortunately, the Ducere Global Business School has your back – with our university partners, we are empowering Australia's startup creators and business innovators with the skills that employers need.